Phoenix Children's Hospital Breathmobile is at Sevilla Elementary School!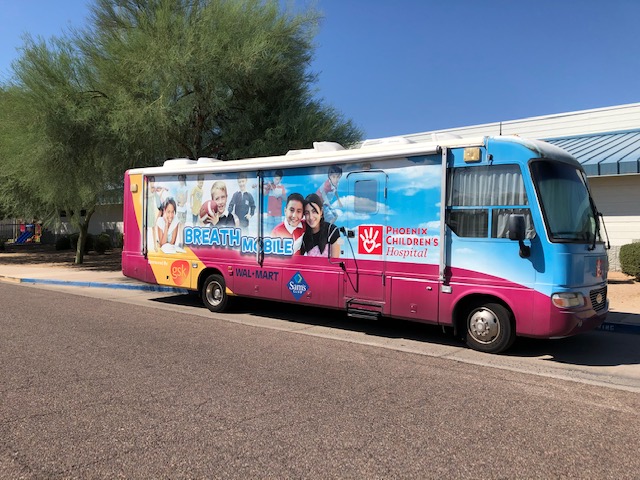 The Phoenix Children's Hospital Breathmobile asthma clinic now visits Alhambra Elementary School District at Sevilla Elementary School-East Campus (Primary). The Breathmobile parks near the East bus bay on clinic days. If your child is uninsured, and you suspect they have asthma, they have uncontrolled asthma, or if you have questions about managing your child's asthma, you can schedule a free appointment with the Breathmobile. The clinic does provide free inhalers and other medications to eligible students. Patients are seen by appointment only, and your child can be seen at other Breathmobile community locations as needed. For appointments, please call 602-300-2789.

Este año escolar, el "Breathmobile", una clínica móvil de asma del Hospital de Niños de Phoenix, visita a nuestro distrito escolar de Alhambra en la escuela Sevilla Elementary School East Campus (Primario). El Breathmobile se estaciona cerca de la entrada de los buses en el lado este de la escuela en sus días de clínica. Si su hijo/a NO tiene seguro médico, si sospecha que él/ella tiene asma, o su hijo/a tiene asma no controlado, o si tiene preguntas de como manejar el asma de su hijo/a, se puede programar una cita gratis con el Breathmobile. La clínica provee inhaladores y otras medicinas gratis a estudiantes elegibles. Se atienden solamente por cita, y pueden atender a su hijo/a en otros locales comunitarios de Breathmobile como sea necesario. Para una cita, llame al 602-300-2789.